Picture Room is pleased to present Five Animations, an exhibition by Aidan Koch, opening October 13th, 2023.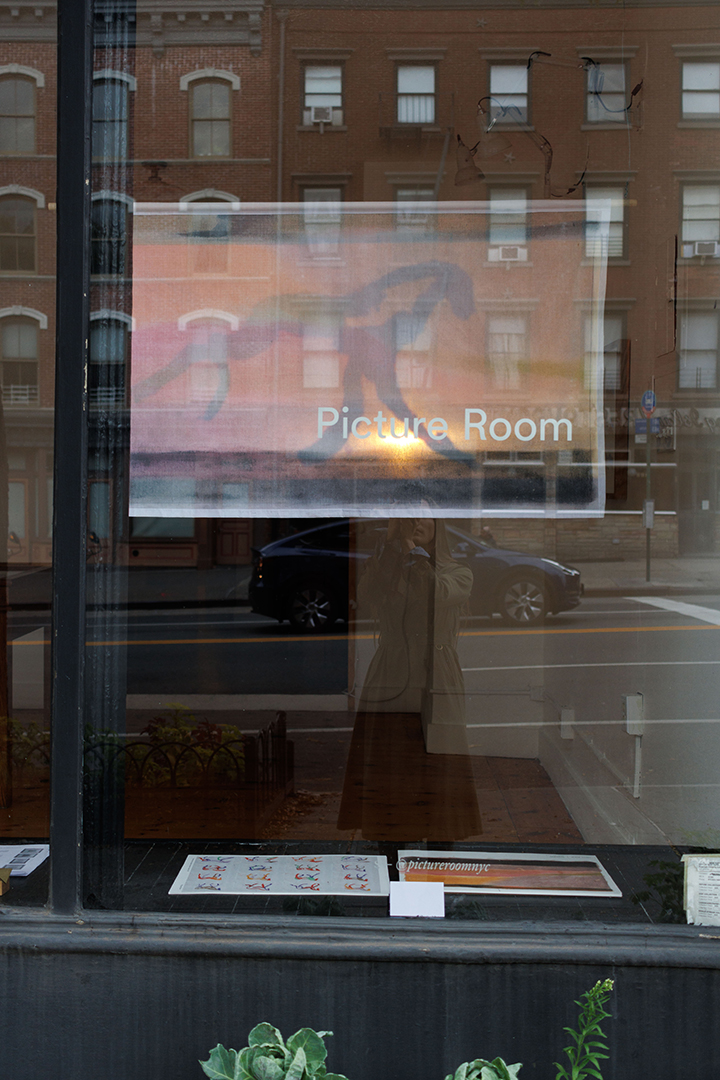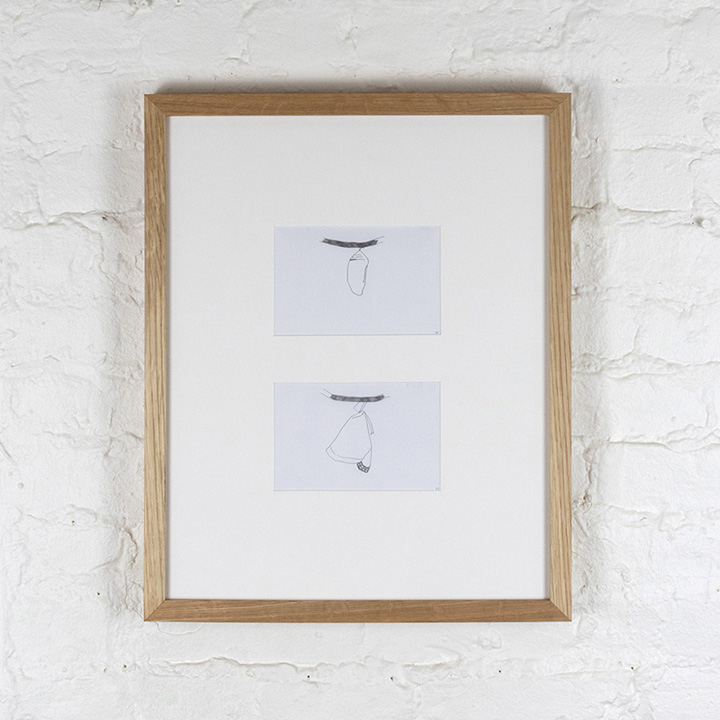 The central animation, Chaparral, flickers across a printed tapestry hung from the front window of the gallery. A Muybridge-esque soft pastel drawing of a horse gallops in place, and its journey across a changing landscape is felt in the shifting colors and temperatures of the sketched pastel figure. The horse's journey takes place in the company of framed extracts from five animations that line Picture Room's walls. They represent a selection of animations Koch created over the last seven years, and recontextualized in this exhibition act as companion pieces to the central video animation. There is a sense of world- building in the way the frozen scenes relate to one another – as though the landscapes depicted in A Woman's Face (it's Spring) or Underwater Dreams could be desert and subterranean environments through which the horse is running, and the figures in In Which All are One and Frog Girl are characters undergoing their own transformations.
The show speaks to Koch's interest in animation as a vehicle for introducing a sense of time and liveliness into her drawing practice. Their form implicitly enforces ideas of sequencing and storytelling, and relates to the comics and written narratives that are central to her work. As a majority of the pieces are extracted from the context in which they are originally shown, the drawings in Five Animations are exhibited as specimens in their own right, foregrounding the care and detail that goes into the craft of hand-drawn animations.
Aidan Koch (b. 1988, Seattle) is an artist and graphic novelist who lives and works in Landers, California. Koch has presented solo exhibitions at 14A Galerie, Hamburg; Signal Gallery, Brooklyn; Naughton Gallery at Queens University, Belfast; and Park View/Paul Solo, Los Angeles. Her work has been included in group exhibitions at The Whitney Museum of American Art, New York; Semiose Gallery, Paris; Company Gallery, New York; DREI, Cologne; Galerie Patrick Seguin, Paris; among many others. Publications include Little Angels, published by MoMA PS1; Heavenly Sea, published in The Paris Review Summer 2015 issue; and forthcoming is Spiral and Other Stories published by New York Review Comics.
Nov 2nd 2023