Picture Room is pleased to present From The Desk Of, an exhibition of drawings by Joana Avillez, opening October 14th, 2022. Avillez has a decade-long career working as a commercial illustrator, and her drawings and illustrated stories have appeared in The New Yorker, The New York Times, New York Magazine, Zeit Magazin, Apartamento, among various other publications.
In reflecting on the exhibition, Avillez writes…
My illustration work is about drawing and writing: drawing as writing, writing as drawing. The scribbly line that connects brain to pen to paper. My favorite pieces that I've made are when writing and drawing seem to come together as one. When I am drawing I try to hack into being the same person that I was when I was nine, making something for my own amusement alone at my desk, with no intention of showing anyone, and then every intention of showing everyone.
I relish all the things that make an illustrator an illustrator: the collaboration, the love of pulp, of narrative; the quick turnaround. There is freedom in the fact that the originals are done in secret. I can X-acto out the part of the illustration that is badly drawn: the hand looks like it has eight fingers, the portrait doesn't have enough likeness, it's late but let's start over! I draw the new hand, the new face, the new scene, and tape and scan it in. No Wite-Out because it's not the Seventies. What I make at my drawing table is not necessarily the end result. The drawing is final when it is dropped snuggly between towering text columns and it smells like a large offset printer and when you can buy three copies at the newsstand. The multiplicity is a thrill – not one precious piece that can only be seen if you're in the right place. It is something that can reach many hands, be thumbed by many thumbs, line hamster cages, or get chewed right back into pulp.
The drawing's deepest desire is to be turned into an illustration: to be in print. But even after this wish glows in CMYK, the original remains. What or who are they, these mille-feuilles I have kept all these years? They are mysterious… a flash of a moment sandwiched between scribbles, inside travel notebooks, and folders containing ripped corners from paper tablecloths drawn on during dinners out in Lisbon. Hundreds of odd-sized, patched-up receipts connecting ten years of drawing. Like a leaf full of holes or an iridescent bug that croaked on your windowsill or finding the contents of last winter's coat pocket.
From The Desk Of presents each of these inky scraps as a specimen in its own right. The real thing before wrinkles were ironed, before insecurities were Photoshop erased, before the drawing became an illustration. Where ideas are seamlessly, lovingly, drooled out; laboriously realized and then totally nixed, covered in my fingerprints. The very paper trail itself.
Joana Avillez, b. 1986, New York, NY, is an illustrator from and still living in NYC. Avillez' drawings and illustrated stories have appeared in The New Yorker, The New York Times, New York Magazine, Zeit Magazin, Apartamento, and various other publications. She has done projects with The Museum of Modern Art and The Solomon R. Guggenheim Foundation. Avillez has collaborated with fashion houses such as Valentino and Hermès. Currently she is working on an illustrated edition of Joseph Mitchell's 1952 classic The Bottom of the Harbor, to be published by Penguin Random House in 2023.
See Available Works by Joana Avillez →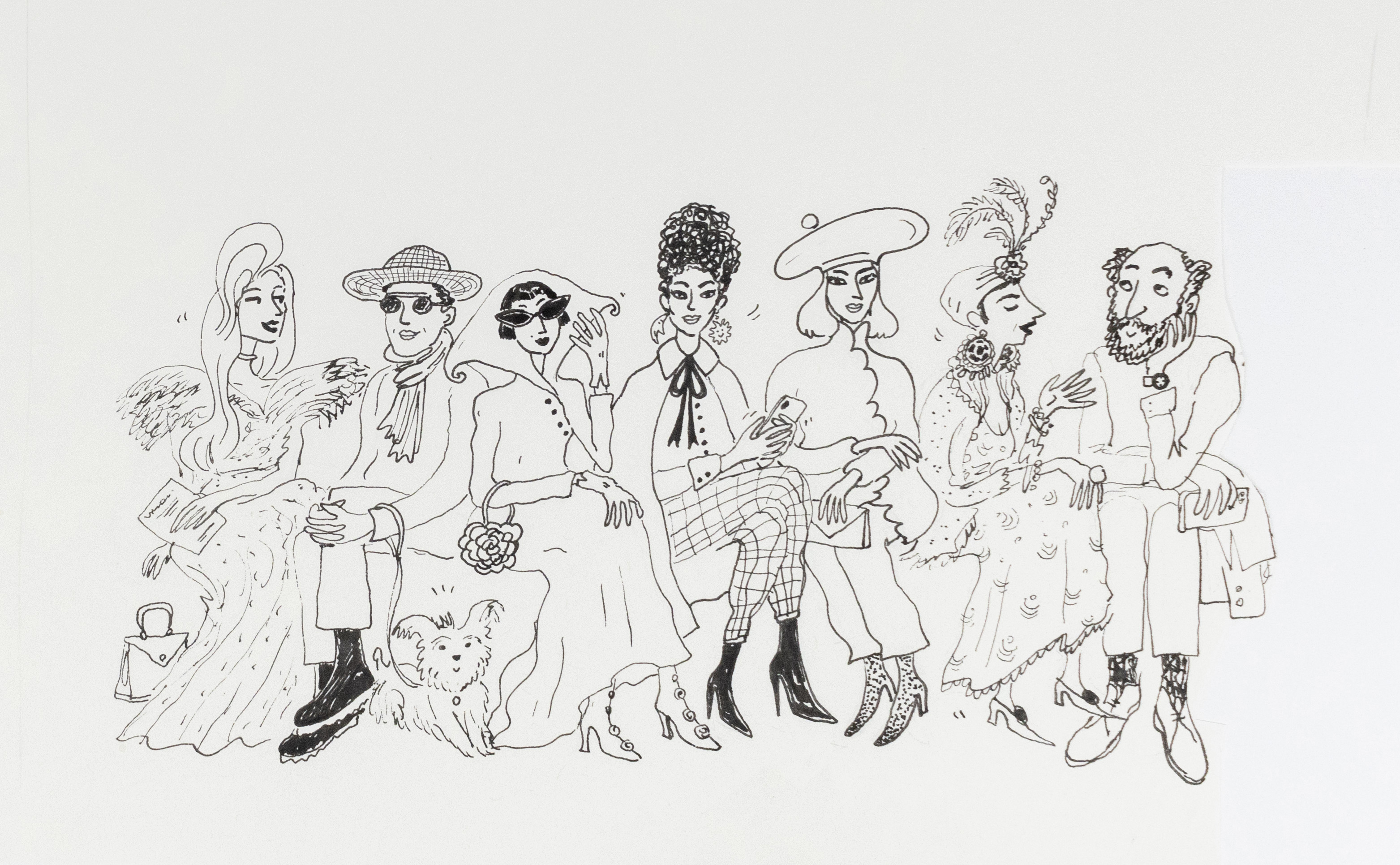 Photo credit: Janna Tew
Sep 14th 2022